HOT NEWS!

FOR IMMEDIATE RELEASE

For additional information and news media inquiries, please contact:

National Council on Fireworks Safety
4808 Moorland Lane
Suite 109
Bethesda, MD 20814 USA
Phone: (301) 907-7998
e-mail: julie@fireworksafety.com
George Bush Urges Americans to Follow the Rules of Fireworks Safety

Washington, D.C. The National Council on Fireworks Safety announced that former President George Bush has joined this year's safety campaign, taking part in a special public service announcement urging consumers to take fireworks seriously this Fourth of July.

In the 30-second television spot, President Bush outlines several important safety tips all Americans should remember when using fireworks to celebrate Independence Day.

Among the tips from the former President: don't let youngsters light the fuses; always have a bucket of water nearby; and keep everyone at a safe distance. In addition to the PSA featuring the former President, the Council has produced a 30-second spot featuring teenaged kids with a similar fireworks safety message. The PSAs, which will air nationwide during the days before the Fourth, are part of an annual, nationwide program aimed at educating the millions of people who celebrate Independence Day with consumer fireworks.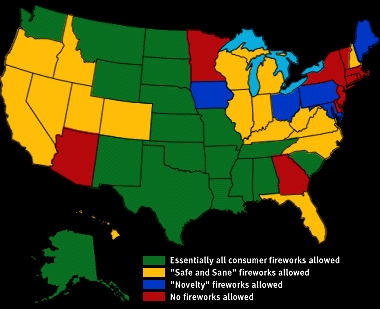 "Consumer" fireworks are those fireworks devices formerly classed as "Class C Common Fireworks" and now classed at "Fireworks 1.4G" by the U.S. Department of Transportation [Title 49, Code of Federal Regulations, Part 173.56 (j)]. State laws may vary as to what types of devices are deemed to be "fireworks" under state law.

"Consumer" fireworks include cone fountains, cylindrical fountains, roman candles, sky rockets, firecrackers, mines and shells, helicopter-type rockets, certain sparklers and revolving wheels.

Above is an overview of the state laws on the types of fireworks allowed. For a more thorough overview of a particular state law from the American Pyrotechnics Association, click on a state or select from the menu